Lee Carlson
---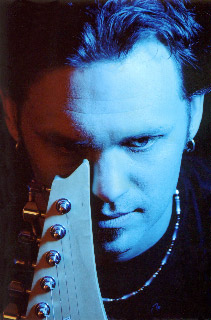 Born & raised on Vancouver Island, Lee started playing guitar at age 12 taking private lessons and playing in the school band. Major influences included Steve Vai, Joe Satriani, John Petrucci, and Frank Zappa.

After graduating, Lee attended Malaspina College for one year where he studied Jazz Theory and Composition.

He moved to Vancouver after college and studied composition with music producer David Malecot of Malecot Music Enterprises. A year later, Lee began teaching guitar lessons and joined the metal band, Acropolis. The band was a great musical outlet. He was with this band for a year and enjoyed many great shows.

After Acropolis, Lee joined a band called Friday's Cry, toured Western Canada and recorded 5 albums. Shortly after moving to Alberta in 2002 he joined Da Capo, a jazz quartet and recorded one live CD.

A year passed and Lee moved on to form a heavy rock band called Critical Day. With this band, he enjoyed a host of great shows, which included opening for Jars Of Clay, Starfield and Riley Armstrong. He is also recording a self-titled EP.

Records Released:
Essence Of Time- 2009

Guitars From The Shadows - Compilation CD

Wave Ministries "More" 1998

Friday's Cry "Torn Veil" 1999

Friday's Cry "Never Gonna Die"

2001 Friday's Cry "NCG"

2001 DeCapo "New Years Eve At Renzos" 2003

Critical Day "Critical Day" EP 200

Touring June 1997 - December 1997
Friday's Cry (WAVE Ministries) – multiple recurring concerts

Duncan, BC

Calgary, AB

Touring July 1997 - August 1997
Friday's Cry (WAVE Ministries) - 136 Shows
Cowichan River Bible Camp - Youth Camps
Duncan, BC

Touring July 1998 - December 1998
Friday's Cry (WAVE Ministries) - multiple recurring concerts

Duncan, BC

Nanaimo, BC

Calgary, AB

Red Deer, AB

Touring July 1998 - August 1998
Friday's Cry (WAVE Ministries) - 136 Shows

Cowichan River Bible Camp - Youth Camps

Duncan, BC

Touring July 1999 - February 2001
Friday's Cry - multiple recurring concerts

Duncan, BC

Nanaimo, BC

Vancouver, BC

Salmon Arm, BC - Sonfest Youth Conference

Kelowna, BC - Avalanche Youth Conference

Salt Spring Island, BC

Calgary, AB

Bow Island, AB

Fort Simpson, NWT

Swift Current, SK