Mario Amengual
---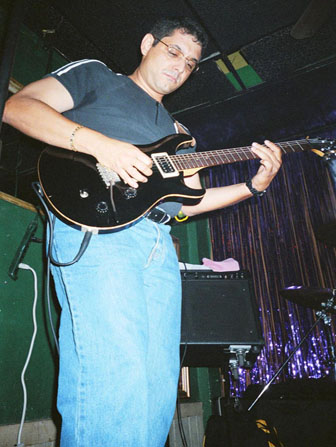 Mario is a guitarist from Miami, Florida. He began taking guitar lessons with Tom Hess in 2002 after becoming frustrated with his musical skills and with the difficulty of finding a truly great guitar teacher in his hometown. As a result, he massively improved his skills in speed and soloing.

He now plays in two bands and is working on material for his solo album release.

Mario's guitar influences include: Neil Schon, Al Dimeola, Van Halen, Vinny Moore, Jeff Beck, Jimmy Page, Tony Macalpine, Gary Moore. Shred guitarist Tom Hess, George Bellas, Brett Garsed, Shawn Lane and Jimi Hendrix.

Want To Become A Better Guitar Player Fast?

Fact:

Finding an experienced guitar teacher is the top priority for any guitar player looking to avoid trial-and-error, frustration and weeks of slow progress.

It only makes sense:

Working with an expert gives you the added experience of someone who has already achieved what you want with guitar (while helping many others before you to do the same). Finding a great teacher now saves you tons of time and effort to make the path to your guitar playing goals well-lit and easy to navigate.

Get started taking guitar lessons now and you'll thank yourself later as your skills go through the roof!
---
Reach your guitar playing goals with the best heavy metal online guitar lessons.