Ty Morgan
---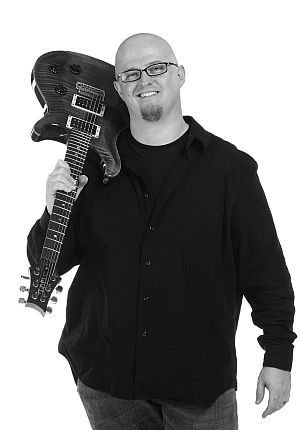 Ty Morgan is an innovative and emotive guitarist, mandolin player and songwriter from the Phoenix area. Versatile in a wide palette of styles, Ty's music can best be described as a mind-bending convergence of genres rooted in Rock, Blues, Pop, Gospel and Bluegrass – with a heaping helping of Metal thrown in for good measure. A veteran of nearly 500 concerts and other events, Ty brings a sense of excitement and excellence every time he steps on stage or the red light goes on in the studio.
Currently, Ty is involved in recording and producing his first single, Asphalt Phunk 92, for the soon to be released Compilation CD Songs of the Phoenix. This deep-pocketed instrumental marries funk metal styling with old school rock to breed an avant-garde, yet familiar feeling musical offspring.
Realizing the immense impact music can have in the lives of others, Ty intensely pursues his passion of creating well crafted music that moves people. He champions passing the torch of great musicianship to the next generation through teaching and mentoring, and keeping the tradition and enjoyment of music performance alive by lighting up the local band stands with groove galore as often as possible.
Ty has been playing guitar since 1986 and his influences include:
Audley Freed, Stevie Ray Vaughn, Tom Morello, Jeff Pevar, Glenn Pearce, Leslie West, Randy Rhoads, Steve Lukather, Jimi Hendrix, Brad Paisley, Marty Stuart, Edge, Lee Ritenour, Thano Sahnas, Chris Thile, Beatles, John Scofield, Doyle Dykes, and Clarence White.
Today, Ty is hard at work writing new music for an upcoming instrumental CD, taking lessons to sharpen his skills, and studying music business in the Tom Hess Music Career Mentoring Program in preparation for an exciting future in the music industry.